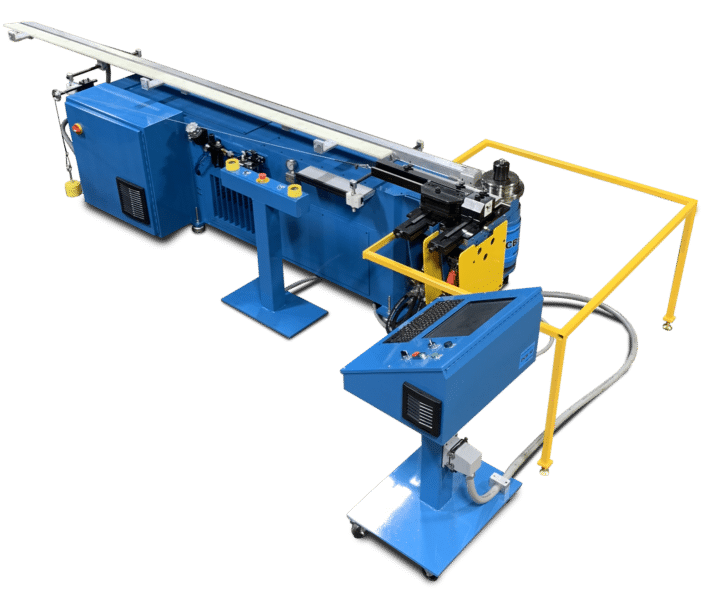 Arriving at innovation requires routine refinement.
Backed by decades of industry experience, Minland Machine has developed a cutting-edge  extrusion solution for RV producers and other manufacturers — the automated DCB10 bender.
This state-of-the-art machine is specifically built to aid in metal extrusion (mainly aluminum) for the fabrication of various products in the RV industry, including window frames, door frames, ladder frames and more. It's also capable of bending steel tubing up to 1 inch in diameter, depending on wall thickness.
Intuitive Interface & Software
One of the most impressive aspects of the DCB10 bender is its user-friendly interface. Operated by an 800×600 touchscreen GUI (graphical user interface), an industrial keyboard/mouse and our proprietary software, the bender's interface is easy to use and navigate. Its intuitive design makes it an ideal solution for manufacturers and fabricators who want to ensure accuracy and efficiency in their production processes without extensive training.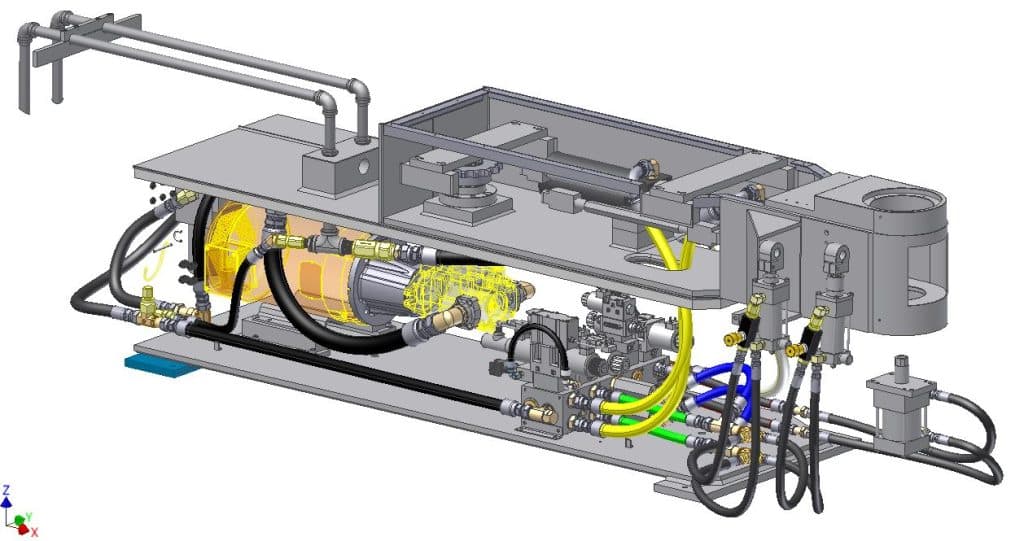 Flexibility to Meet Product Demands
Another key benefit of the DCB10 bender is its unlimited program storage capability, which allows users to keep all of their programming data in one place for quick access and reference. This feature provides manufacturers and fabricators with the flexibility they need to meet the demands of customers while cycling through a variety of production stages with ease.
The bender's incremental and absolute programming modes also make it a highly versatile solution. With these programming modes, users can easily switch between different bending processes and techniques depending on the specific requirements of their products.
Quick-Change Components for Reduced Downtime
The DCB10 bender is equipped with a quick-change tooling system that makes it easy and convenient for users to alternate between different tooling fixtures. This feature significantly reduces downtime and enhances the bender's overall efficiency.
To further improve accuracy and efficiency, the DCB10 bender also comes with a split die actuator and mandrel attachment (optional). These features enable manufacturers and fabricators to produce highly precise and consistent bends, even on complex shapes.
Varying Sizes & Safety Features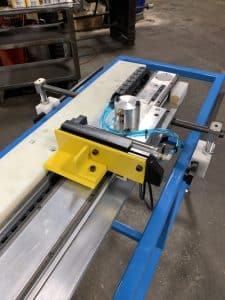 The DCB10 bender features 20 ft. servo stop table travel, which gives users the freedom to produce products of varying lengths with ease. Its single-stop table moves to each programmed position after every cycle. The bender's multi-stage stop table (optional) can produce up to 12 individual stops and be ordered in shorter lengths, making it a highly versatile solution that can be adapted to meet the specific needs of different operations.
The DCB10 bender is also designed with safety in mind. Dual swing-arm safety plates and an auto-lube system (included among some grease fittings) are standard features of the bender that help ensure safe and reliable operation. The bender is equipped with an external network connection and USB port, giving users the ability to connect and download data to external devices.
Software Features
Windows 10 Pro operating system
12 programmable bend settings with adjustable bend speeds for each bend
Programmable stop settings (with global increase/decrease)
Load/save/edit part programs
Program notes and DXF drawings for operator reference
Online machine maintenance records
Program change log and Production reports
Online help screens and operator manual
Software security system to prevent unauthorized users from making changes to part programs
How Minland Machine Can Help
Minland Machine's DCB10 bender is the perfect extrusion solution for the RV industry and beyond. Its advanced features and benefits, ease of use, swift tooling changes, safety measures and flexibility make it the ideal choice for any operation. With the DCB10 bender, businesses can increase productivity and efficiency, reduce downtime and achieve greater accuracy and customization while keeping employees safe.
Have a question about the DCB10's capabilities? Are you considering how our bender can be integrated in your manufacturing environment?
Contact Minland Machine today, where our production team can offer insights and answers!